Regular price
$895.00 CAD
Regular price
Sale price
$895.00 CAD
Unit price
per
Sale
Sold out
VirusKiller Replacement Kit
What comes in a VK-401 replacement kit:
A pair of Reactor Modules
View full details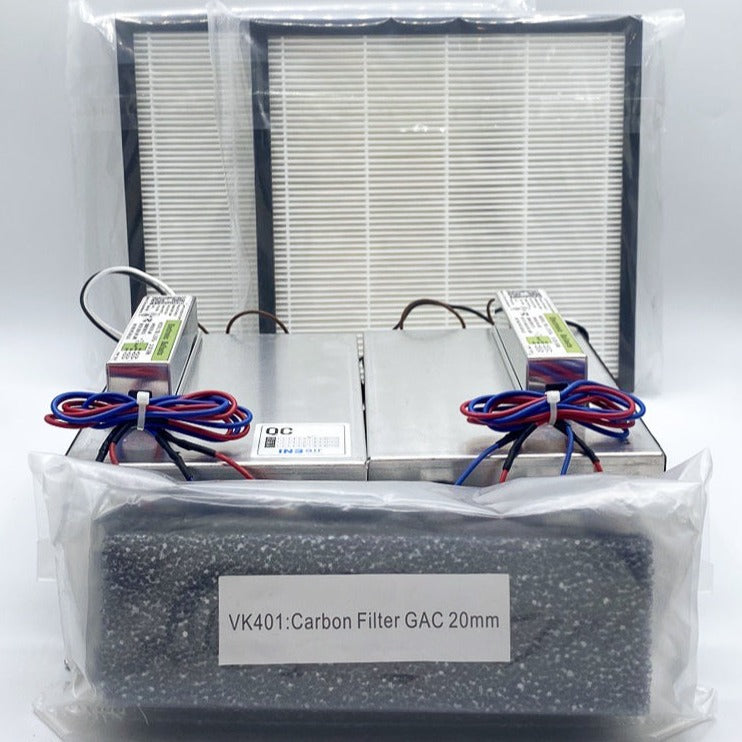 VK 401/VK Air destroys airborne viruses and bacteria by up to 99.99999% 
Intake

The VK AIR (VK 401) captures the most polluted air in a room by creating an airflow pattern that continuously draws contaminated air away from the breathing zone.

Filtration

The VK AIR (VK 401)'s multi-stage filtration features a pre-filter, granular activated carbon, and an H13 HEPA filter to remove coarse, fine, and ultrafine particulates and VOCs.

Decontamination

Our patented UV-C Reactor Chamber uses a powerful photochemical process that safely deactivates airborne viruses and bacteria for real-time indoor air hygiene.

Air Delivery

The VK AIR (VK 401) can be placed at head height where occupants of a room congregate, allowing for fast delivery of clean air directly where people can benefit.
The best clean air performance in a compact package.

VK AIR (VK 401) is the versatile, high-performance device designed to deliver crystal clear air where it matters most. Get exceptional air quality in the spaces where you live and work.

Precision indoor air hygiene.

The VK AIR (VK 401) is built to protect the breathing space in small and medium-sized rooms up to 90m2. Advanced yet unobtrusive, it provides visible reassurance and premium air all day to employees, customers, visitors and staff.

ColumComprehensive indoor air hygiene.

The VK AIR (VK 401) has been laboratory tested to reduce a host of representative airborne viral, bacterial, and fungal strains, and features premium filter technology for the reduction of physical and chemical pollutants.

Placement versatility for clean air anywhere.

Nothing to sneeze at.

The VK AIR (VK 401) features a premium, easily replaceable H13 HEPA filter to trap daily and seasonal particulate matter. Our certified melt-blown HEPA material traps particulates, dust, pollen, pet dander, and dirt with up to 99.98% efficiency.

Wiev Filter Report

Switch on, breathe in.

Plug-and-play operation with no complex setup or configuration. The VK AIR (VK 401) features simple controls suitable for high-traffic public spaces and no distractions for retail or commercial staff.