Regular price
$425.00 CAD
Regular price
Sale price
$425.00 CAD
Unit price
per
Sale
Sold out
Handy. Portable. Accurate. Always on.
The choice of professionals everywhere.
For multiple rooms and locations to constantly monitor the conditions on premises
Works best with Aranet PRO base station
Use multiple Aranet4 PRO devices in different locations and connect them to the base station and Aranet Cloud for centralized monitoring
Integrate Aranet4 PRO monitors in your existing ventilation systems and solutions
Features:
Bluetooth connectivity.  Up to 100 Aranet4 PRO devices can be connected to the Aranet PRO base station
Data graphing. 

Colour indicators and configurable sound alarms.

Precise nondispersive infrared (NDIR) sensor technology. 

Super-efficient e-ink display.

Up to 2-year battery life (2xAA). 
Links to Aranet Base Stations, up to 3 km range.
With the Pro unit, enjoy the added functionality of the Aranet Public CO2 Monitor. 
View full details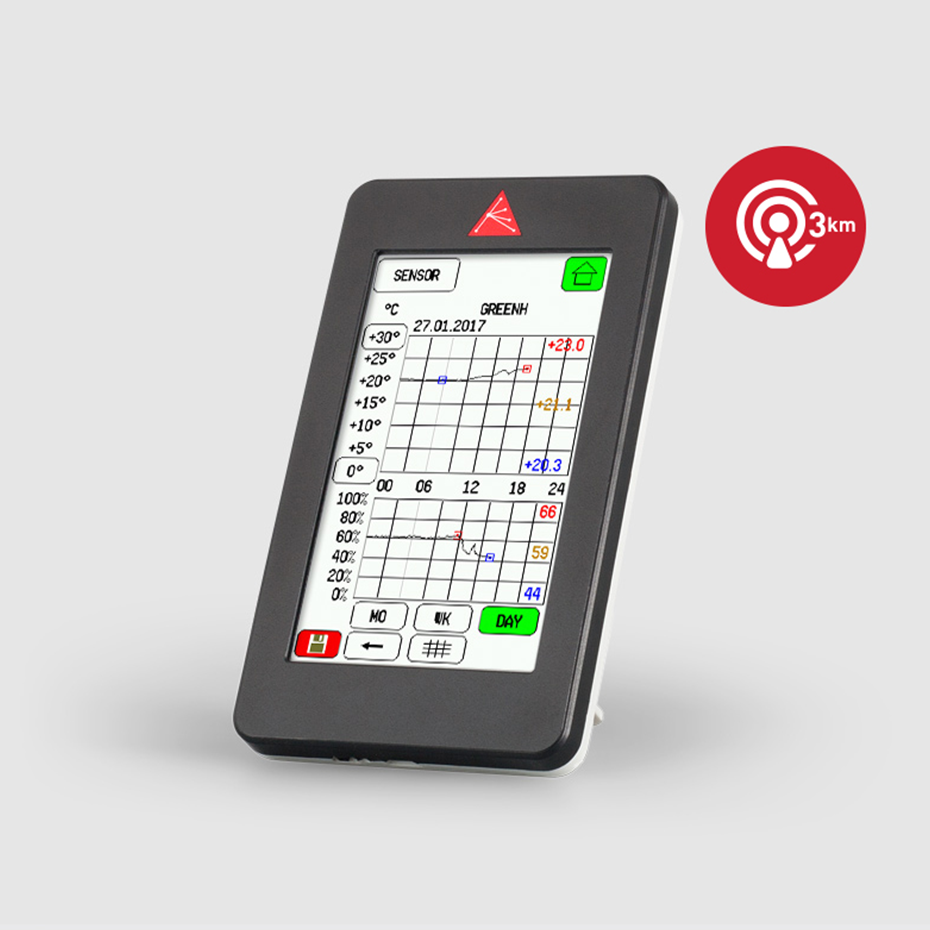 Aranet4 takes CO2 monitoring to the next level of portability, usability, and utility.

Understand your risk. Take it everywhere: home, school, gym, office, transit, air travel.

The lower the CO2, the less risk of exposure to rebreathed air.

Aranet4 shows CO₂ measurements directly on its e-ink screen with a corresponding colour indicator and configurable sound alarms.

Aranet4 uses the most precise Nondispersive infrared (NDIR) sensor technology for accurate CO₂ measurements. It has a super-efficient e-ink display that extends its battery life up to 2 years (2xAA).

Aranet4 device is Bluetooth compatible, using your iOS or Android device.

Outdoor air is ~420 ppm CO2. Unoccupied indoor spaces may be higher due to combustion sources such as gas appliances, candles and fireplaces. 

For occupied spaces, each increase of 400ppm above unoccupied = 1% rebreathed air. 

Cognitive function impairment increases above 1000ppm and is pronounced over 1400 ppm.1 

1 Allen, Joseph G., Piers MacNaughton, Usha Satish, Suresh Santanam, Jose Vallarino, and John D. Spengler. 2015. "Associations of Cognitive Function Scores with Carbon Dioxide, Ventilation, and Volatile Organic Compound Exposures in Office Workers: A Controlled Exposure Study of Green and Conventional Office Environments." Environmental Health Perspectives 124 (6): 805-812. doi:10.1289/ehp.1510037.