Regular price
Sale price
$25.00 CAD
Unit price
per
Sale
Sold out
The Breathing Is Believing NanoMask™ from Prescientx takes comfort, fit and protection to the next level by combining advanced materials, design, and manufacturing.

Features: 

Advanced nanofiber filtration
Latex-free 3-ply construction
Hydrophobic inner and outer layer
Adjustable ear loops made of latex free fabric
ASTM L3 material
Imagine a mask that:
breathes like it's not even there
forms to your face
seals without effort
stays cool and comfortable all day
doesn't fog up glasses or goggles
is designed to be reused
 Proudly Made in Canada.

***Mask Products Do Not Ship to USA***
View full details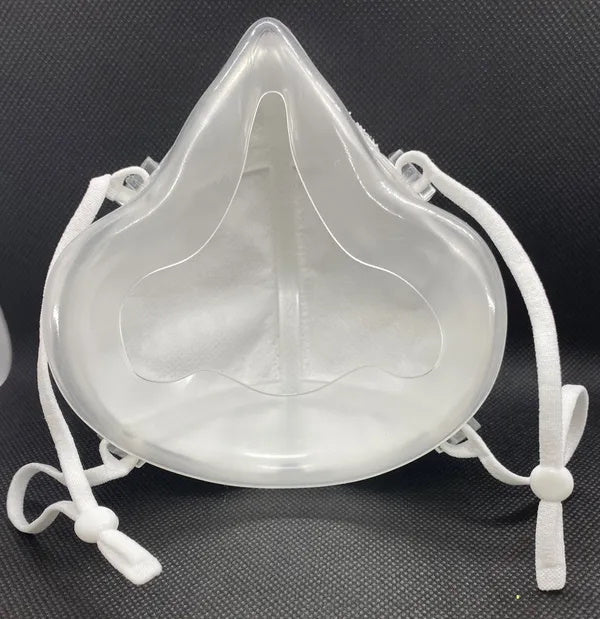 Some FAQs
Imagine a lightweight reusable mask that:

Breathes like it's not even there

Forms to your face

Seals without effort

Stays cool and comfortable all day

Doesn't fog up glasses or goggles

Features:

Long-lasting TPE seal

Advanced nanofiber filtration

ASTM L3 rated

Ear loop or headstrap configuration - adjustable 

Latex free

Will NanoMask fit my face?

NanoMask is designed to fit all approved adult face sizes.

Width - 10 cm to 20 cm (cheekbones at widest point)

Length - 9.5 cm to 14 cm (bridge of nose to under chin)

How do you clean your Nanomask?  

Warm soapy water to remove oils, dust, dirt, and makeup from the elastomeric seal.   

How long will your NanoMask last? 

Depends on use, environment, handling and care. 

Typical daily 8h use - at least 1 month. 

Typical occasional use - up to 6 months.  

Do I need to be fit-tested?

No. According to Public Health Agency of Canada, fit testing is not required for respirators unless your employer mandates a respiratory protection program in accordance with occupational health and safety regulations.  

What is a seal-check?

A seal-check is a way to make sure your respirator is well-fitted and leak-free. Simply cover your NanoMask with the palms of your hand, inhale quickly and exhale quickly. You should feel a vacuum created when inhaling and pressure when exhaling. It's good practice to perform a seal check every time you change filters and every time you don your NanoMask.

Why do I notice condensation inside my respirator in cold weather?

This is normal. Exhaled breath is 100% saturated with water vapour and close to body temperature. All valveless respirators condense water vapour on the inside at room temperature. Condensation is more noticeable in elastomeric respirators than disposable respirators. Simply wipe away the condensation moisture with an absorbent disposable cloth from time-to-time. Note: If there is little or no condensation inside your respirator, it means your respirator is leaking.